Behind
the scan
Webinar Series
Trends in Point-of-Care Ultrasound: Panel Discussion
Date: Wednesday, September 16, 2020
Length: 60 minutes
Learn the latest trends as your colleagues discuss how the expanded use of POCUS supports both procedural and diagnostic applications. The integration of POCUS can help improve patient outcomes, increase patient safety and reduce costs while helping physicians deliver high-quality patient care.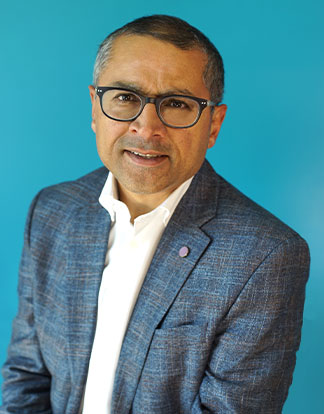 Moderator: Dr. Diku Mandavia
SVP, Chief Medical Officer, Fujifilm Sonosite and Fujifilm Medical USA
Diku Mandavia, MD, FACEP, FRCPC, joined Sonosite as a medical advisor in 2007 and currently serves as Chief Medical Officer for both FUJIFILM Sonosite, Inc. and FUJIFILM Medical USA. He is also a Clinical Associate Professor of Emergency Medicine at the University of Southern California and was an Attending Staff Physician at Cedars-Sinai Medical Center in Los Angeles from 1998-2010. Dr. Mandavia is a founding member and past-chair of the ACEP Ultrasound Section and co-author of the ACEP Ultrasound Guidelines. He has taught thousands of physicians worldwide, lectured at over 200 medical conferences, and has been awarded ACEP's Outstanding Speaker of the Year. Dr. Mandavia has also contributed to over 100 publications and is co-director of the national Resuscitation Conference. He received his medical degree from Memorial University in Canada, completed his residency at Los Angeles County and USC Medical Center, and is a graduate of the Stanford Executive Program.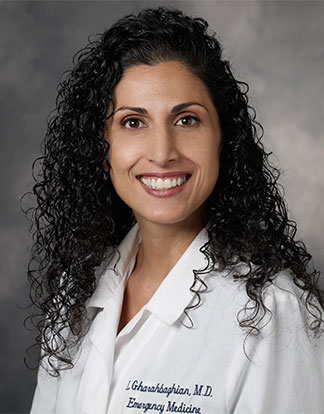 Clinical Panel: Dr. Laleh Gharahbaghian
Clinical Professor of Emergency Medicine, Medical Director, Adult Emergency Medicine, Director Emeritus, Emergency Ultrasound Program, Patient Safety Champion, Stanford HealthCare, Emergency Medicine Co-Chair, Case Review Committee (formerly PPEC), Stanford University School of Medicine
Dr. Gharahbaghian is an academic emergency physician who completed her fellowship in Emergency Ultrasound in 2007 at Stanford and remained on the Stanford faculty to serve as Director of the Emergency Ultrasound Program and Fellowship for ten years. She now serves as Medical and Quality Director of Emergency Medicine. Dr. Gharahbaghian's research involves the study of various point-of-care ultrasound applications in the management of critical patients, in the screening of trauma patients, and in its education through simulation models. She is a leader in the national bedside ultrasound educational impact and has led several very successful educational innovations in emergency ultrasound, including her internationally-known blog SonoSpot.com. Dr. Gharahbaghian has thousands of followers on Twitter (@sonospot), where she continues to engage with the FOAMed community. She is also the first to create an online ultrasound-focused case-based educational opportunity through gamification with SonoDocGame.com. Dr. Gharahbaghian brought UltraFest, a free national medical student ultrasound symposium, to Stanford, and travels internationally to provide educational sessions on ultrasound integration into emergency practice at various developed and underdeveloped countries and rural village clinics. She has directed various ultrasound CME workshops and continues to instruct at several successful national CME ultrasound workshops, including at the National Scientific Assembly for the American College of Emergency Physicians (ACEP) and Stanford's Point-of-Care Ultrasound Workshop.
Clinical Panel: Dr. Davinder Ramsingh
Director of Research and Perioperative Ultrasound, Anesthesiology, Loma Linda University Medical Center
Dr. Ramsingh received his M.D. from Medical College of Georgia and completed his Anesthesiology residency at Loma Linda University Medical Center where he served as chief resident. He completed a Cardiac Anesthesiology fellowship at UCLA. Afterwards, Dr. Ramsingh joined the faculty at the University of California at Irvine (UCI), where he served as Director of Cardiac Anesthesiology and Director of Perioperative Ultrasound.

While at UCI, he led an innovative teaching program for anesthesiologists to apply a whole-body point-of-care ultrasound examination. Dr. Ramsingh recently joined Loma Linda University as the Director of Clinical Research and Perioperative Ultrasound. His research interests include the use of ultrasound and technology to improve perioperative care. He has co-directed national sessions and has published multiple articles on these topics. Dr. Ramsingh has also designed two websites for medical education: www.pocuseducation.com and www.foresightultrasound.com.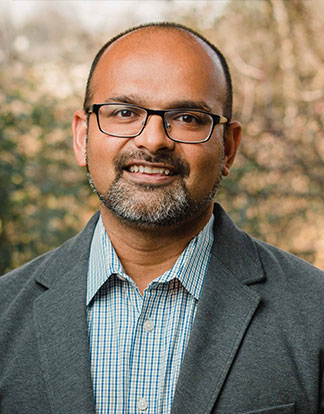 Clinical Panel: Dr. Rahul N. Desai
President, Interventional Orthobiologic Foundation 501(c)(3), CEO, Founder RestorePDX, Board of Directors Oregon Surgical Institute
Dr. Rahul N. Desai, a fellowship-trained musculoskeletal interventional radiologist, founded Restore PDX Interventional Spine & Sports Medicine in 2013 with the mission to redefine musculoskeletal health care. This unique practice allows a group of clinicians with diverse medical specialties to focus on their patients' health and well-being in a truly collaborative model.

In 2008, Dr. Desai began to expand his musculoskeletal ultrasound and interventional spine practice with the use of cutting edge orthobiologic therapies, such as Platelet-Rich-Plasma (PRP), Stem Cells, and Amniotic Membrane-Derived Growth Factors. He began treating tendon and ligament disorders, eventually expanding to joint and spine pathology. He tracked patient outcomes after regenerative biologic injection therapies with hundreds of before and after Tesla 3 MRI scans, which clearly documented tissue healing, directly correlating with clinical improvement. Dr. Desai gained both national and international acclaim in the fields of MSK radiology and orthobiologic treatments. Having performed thousands of regenerative injection therapies, he is a recognized international expert in the field of Platelet-Rich-Plasma (PRP), cellular therapies, and regenerative medicine. His endeavors include numerous lectures, presentations, publications, and clinical research.